JiuJitsu4Life owner and head instructor
Felipe Amarante
Professor Felipe Amarante is a highly accomplished and respected martial artist and educator, with a 3rd degree black belt under the legendary Roberto Cyborg Abreu. Over the past 17 years, he has inspired, motivated, and taught Brazilian Jiu-Jitsu to hundreds of students all over the world, working tirelessly to help his students achieve their goals and reach new heights of skill and mastery.
With a deep understanding of the principles of discipline, focus, and perseverance that are at the core of Jiu-Jitsu, he has used his expertise to help his students develop both on and off the mat.
Before dedicating his life exclusively to Jiu-Jitsu, Professor Felipe Amarante worked for the Broward Sheriff's Office for over 9 years, gaining valuable experience and skills that he has applied to his coaching and teaching work.
As the founder of Jiu-Jitsu 4 Life Inc, a motivational speaker, entrepreneur, and head instructor of Jiu-Jitsu 4 Life Coral Springs, Professor Felipe Amarante is passionate about Jiu-Jitsu and its benefits for both physical and mental health. He is also in the process of writing his first book, which will share his insights, wisdom, and strategies for success with a wider audience.
In conclusion, Professor Felipe Amarante is a highly skilled and accomplished martial artist, educator, and coach who has dedicated his life to the practice and promotion of Jiu-Jitsu. With his expertise, dedication, and passion for the art form, he has inspired countless students and will continue to be a positive influence in the martial arts community for years to come.
When he is not teaching Jiu-Jitsu, you will find Professor Felipe Amarante playing in the pool with his dogs Bruno, Malandra, Mister, and Bia. He is an avid animal lover and finds joy in spending quality time with his furry friends. In addition, he is a passionate soccer fan and loves to support his favorite team, Flamengo, whenever he gets the chance. Whether he is on the mat, in the pool, or cheering on his team, Professor Felipe Amarante brings the same level of dedication, focus, and energy to everything he does.
Pictured Right: Felipe Amarante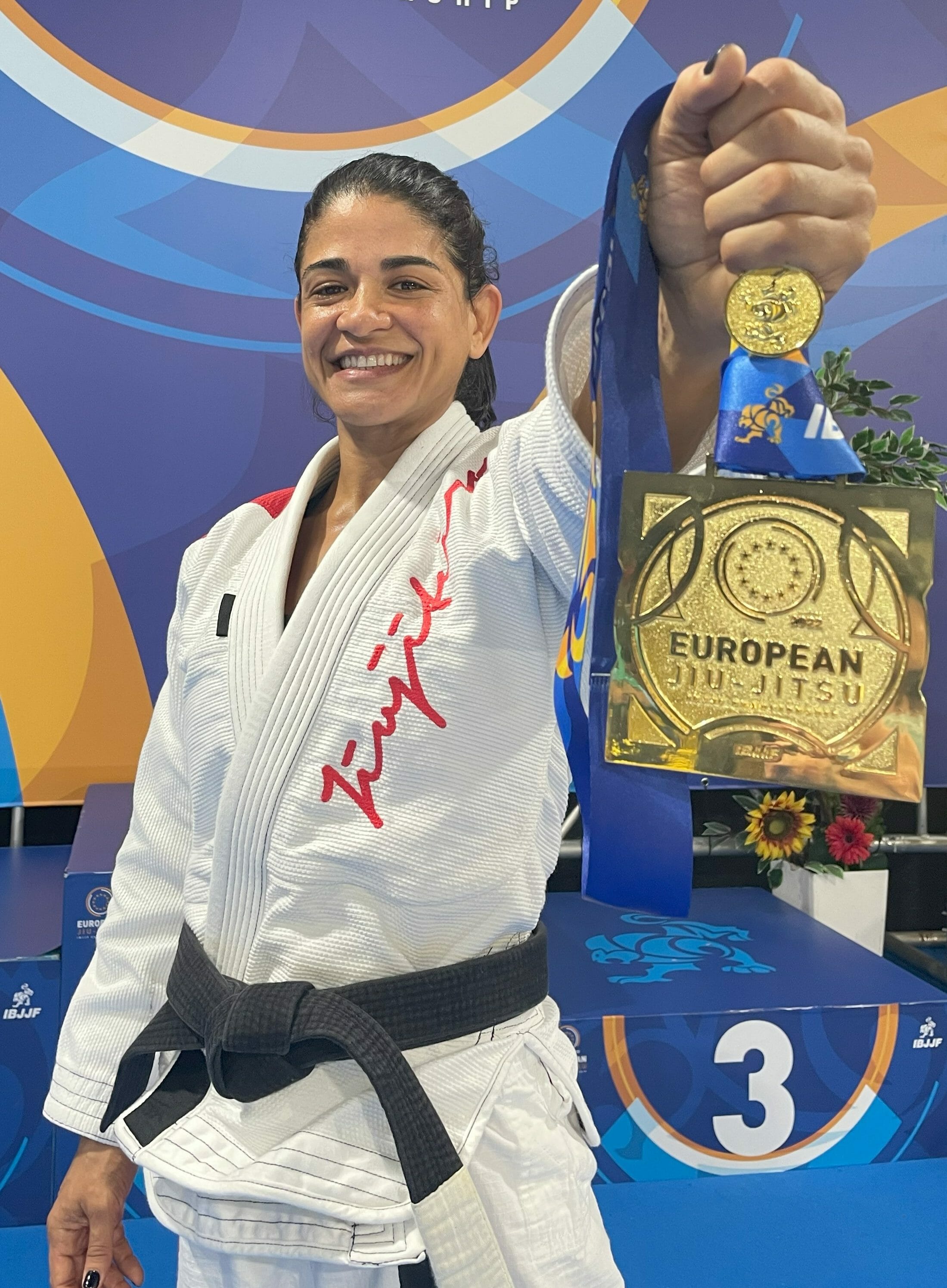 Professor and Co-Owner
Sofia Amarante
Professor Sofia Amarante is a highly accomplished martial artist with 9 World Championships in Brazilian JiuJitsu under her belt, amongst other titles in JiuJitsu. Just like Professor Felipe Amarante, she is a 3rd degree black belt under Roberto Cyborg Abreu.
She is a dedicated instructor, sharing her knowledge and experience with students of all ages and levels. Professor Sofia Amarante is not only a gym owner, and JiuJitsu instructor, she is also a women's fitness coach, helping women achieve their fitness goals while instilling confidence and self-esteem. She has created a community within the women at the gym that is rare, and something her students treasure deeply. Not only has she been successful in her professional life, but her biggest achievement is that she is a dedicated mother to her 16 year old son, Kai, who also spends his time teaching Jiujitsu and helping others succeed.
She has faced challenges throughout her journey but has overcome all the obstacles in her career, and throughout life in general,through persistence, hard work, and dedication. Her story serves as an inspiration to those who strive to achieve their goals despite facing challenges along the way. With all her many accomplishments, Sofia remains humble and grounded, always eager to learn and improve both as a martial artist and as a mother.